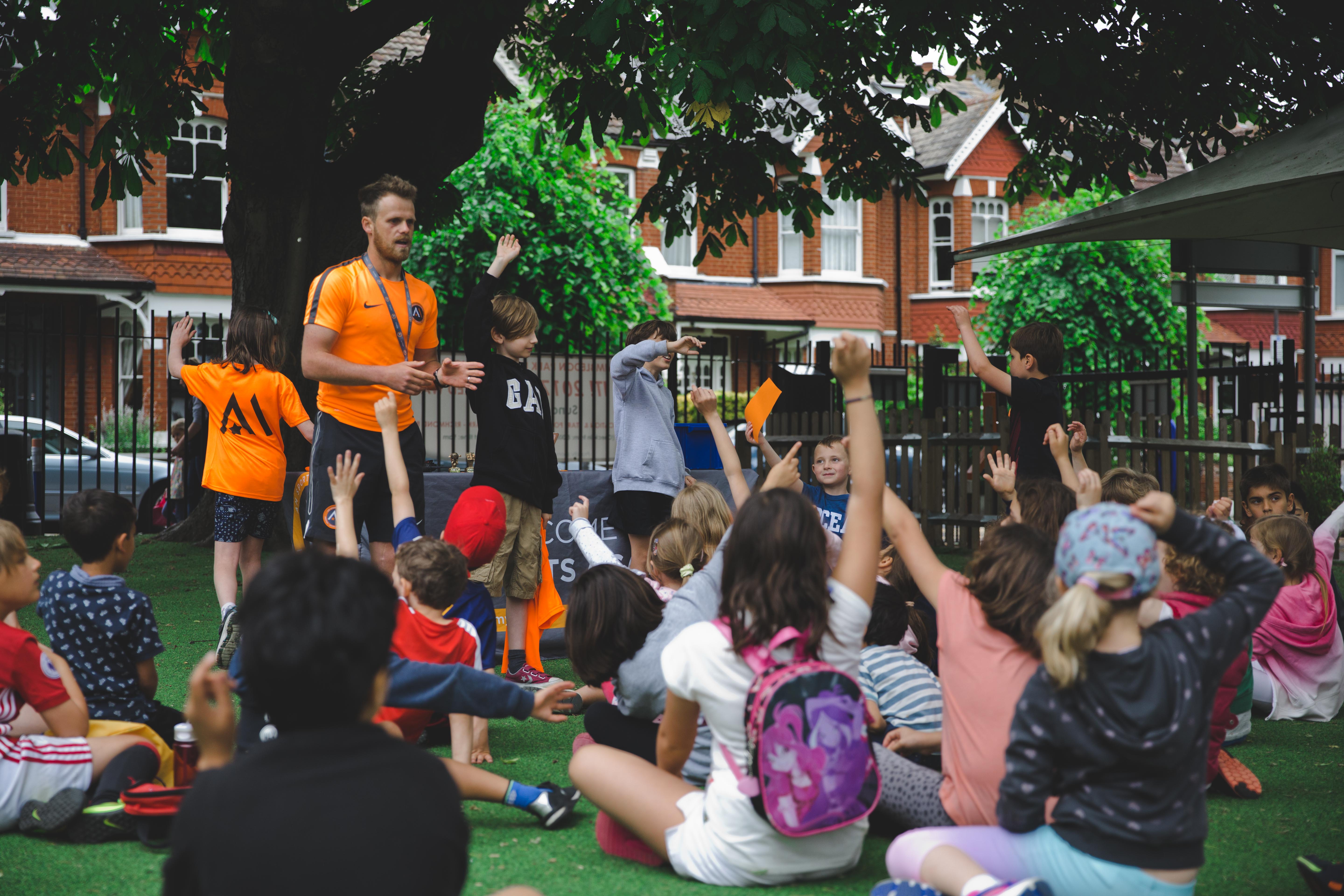 Multi-Sports Camps
DUE TO SCHOOL CLOSURES ALL EASTER CAMPS HAVE BEEN CANCELLED. PLEASE SEE OUR TERMS AND CONDITIONS FOR DETAILS
WPPS : **CAMP CANCELLED**
Easter Holidays Week 1 – Monday 6th – Thursday 9th April
Easter Holidays Week 2 – Tuesday 14th – Friday 17th April
Floreat Wandsworth : ** CAMP CANCELLED**
Easter Holidays Week 1 – Monday 6th – Thursday 9th April
Easter Holidays Week 2 – Tuesday 14th – Friday 17th April
AM Sports Academy deliver Multi Sports Holiday Camps for children aged 4-12 at Wimbledon Park Primary and Floreat Wandsworth Primary, which take place during school holidays and closures.
We offer an extensive range of indoor and outdoor sports and activities such as Tag Rugby, Netball, Football, Cricket, Basketball, Tennis, Hockey, Rounders, Gymnastics, Athletics, Crazy Golf, American Shootout, Australian Rules Football, Archery, Chess, Treasure Hunts, Outdoor Adventures, 10 pin Wizards, Rapid Fire and Dodgeball.
There are a variety of medals, trophies and certificates up for grabs as children learn new skills and techniques whilst making new friends. They get the opportunity to compete in fun and exciting team games and competitions in a safe and enjoyable environment.
Venues:
Wimbledon Park Primary School – Havana Road, SW19 8EJ
Floreat Wandsworth Primary School – 305 Garratt Lane, SW18 4EQ
You may choose whichever venue suits you best and your child does not need to attend either school to participate.
Camp Dates for 2019/2020 – Full List
Camp Pricing – Updated List
Discounts – there are 2 types:
Multi Child discount – available to 2 or more children registered in the same order. First child pays full price then all subsequent children have a 20% discount applied automatically by the system.
4 or 5 Day week – a block booking with a 15% reduction already applied to the price vs the same number of days at standard pricing. Multi child discount DOES NOT apply in addition.
Sports Maps:
These plans detail what your child will be doing during camp and are set out by day and group type. They will be available on our website, Facebook page and on the registration desk at the beginning of each week or camp period to see which sports are on offer. Children will take part in at least 5 sports a day.
SPORTS MAPS FOR UPCOMING CAMPS
Camp Groups:
Children will be grouped by school year into the following groups and activities are tailored specifically to cater for the relevant ability levels:
Cubs – Nursery & Reception
Wildcats – Year 1 & 2
Panthers – Year 3, 4, 5 & 6
Age Guidelines:
The minimum age for attending a camp is 4 years old. Due to changes in our Ofsted registration 3 year olds can no longer be accepted.
We can accept Year 7 children who are 11 or 12 years. Just select Year 7 from the list their date of birth as normal.
Payment with Childcare Vouchers/Tax Free Childcare:
Please click here for a link to the booking procedure.
Need to add on lunch hour, early or late drop off to your booking?
-find the day(s) you require add ons and select 'add purchase'.
-click the box(es) which you require
-scroll down and pay via card.
The add ons can NOT be selected if paying via CV, TFC or any other coupons. In this case please contact info@amsportsacademy.co.uk to request admin to help.
Any further questions? View our list of BOOKING FAQ's
EMERGENCY CAMP CONTACT NUMBERS