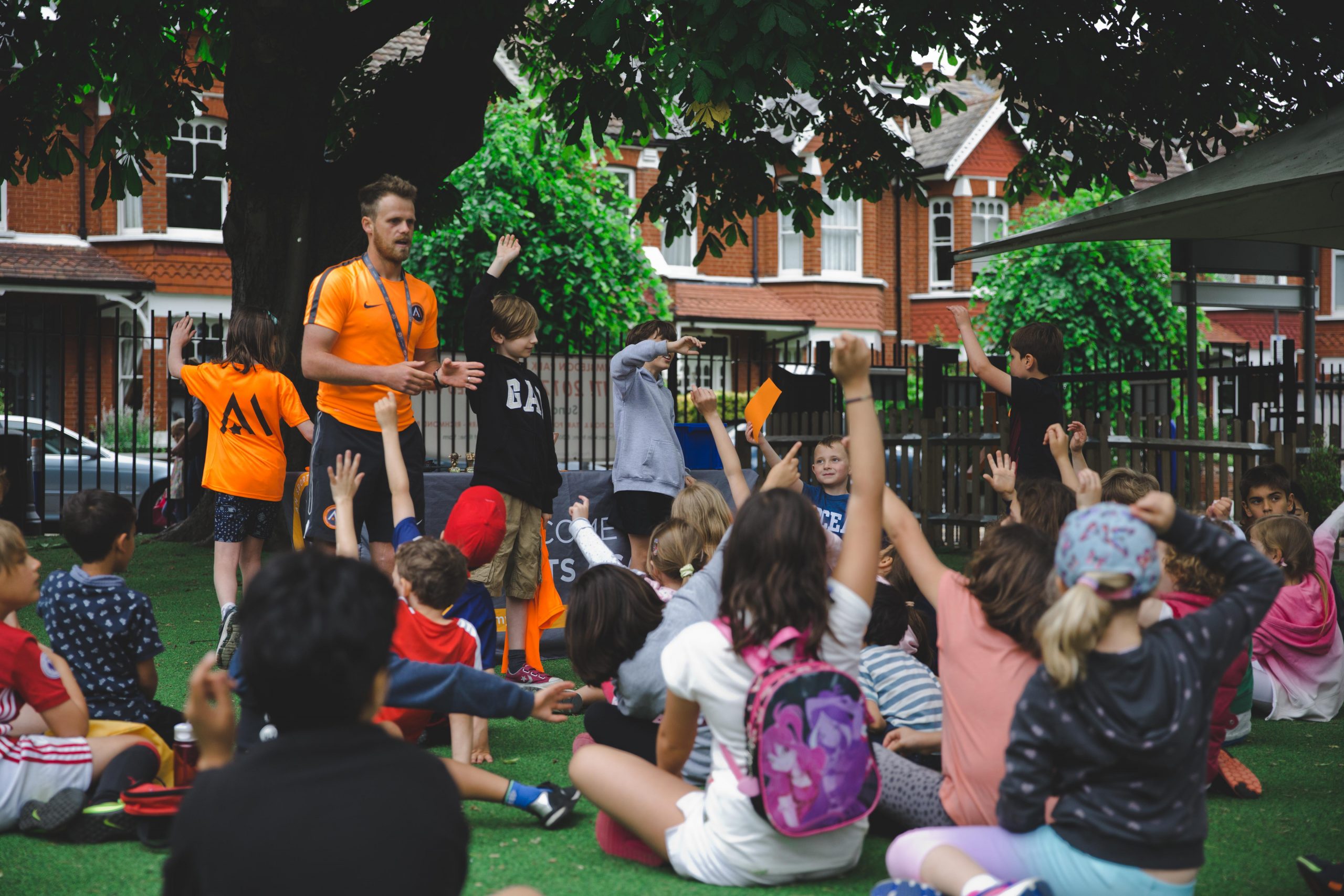 Multi-Sports Camps
Camps at WPPS and Floreat will go ahead for October Half Term 2020. 
Multi Sports Holiday Camps for the October Half Term will be held at both Wimbledon Park Primary School, SW19 and Floreat Wandsworth, SW18.
Camp Dates:
WPPS:
Friday 23rd October (INSET)
Monday 26th October – Friday 30th October
Floreat:
Monday 26th October – Friday 30th October
Bookings will open soon.
******************************************************************************************
AM Sports Academy deliver Multi Sports Holiday Camps for children aged 4-12 at Wimbledon Park Primary and Floreat Wandsworth Primary, which take place during school holidays and closures.
Venues:
Wimbledon Park Primary School – Havana Road, SW19 8EJ
Floreat Wandsworth Primary School – 305 Garratt Lane, SW18 4EQ
You may choose whichever venue suits you best and your child does not need to attend either school to participate.
Important booking notes:
Accounts are created during the registration process so cannot be set up ahead of time
If you have registered before then you can log in and the system will remember some of your details. Make sure they are correct and amend anything that has changed since last time.
Use the correct email address you have used before to log in so you do not create a new account
For safety reasons there are NO early drop off or late pick up selections available
Due to significantly reduced capacities there are NO discounts for multi child bookings or for booking a full week. If you wish to book 5 days in the same week please do so by adding each day in turn.
There is a flat fee of £42.50 (inc VAT) for a 7 hour 9.30am – 4.30pm session
If you have a CREDIT on your Active account a tick box will appear at checkout to prompt you to tell the system to assign it to your new booking. Ensure you tick the box to use it as the amount will NOT come off the total automatically.
If paying by Childcare vouchers or Tax Free Childcare use the coupon codes CHILDCARE or TAXFREE respectively then make payment via your provider.
If you have a CREDIT in Childcare or Tax Free Vouchers please deduct the amount from your payment. Any queries re amount etc email [email protected]
Camps this Summer will look a bit different but our priority is always to entertain and engage your child while keeping them safe.
Highlights of the COVID 19 Safety measures include: 
At Floreat places currently limited to 45 children per day with 3 groups of up to 15 children.
At WPPS places currently limited to 60 children per day with 4 groups of up to 15 children.
Fully contactless booking and payment system through our website.
Only a full day 9.30am – 4.30pm booking option available to reduce arrival and departure traffic in camp.
Drop off, registration and collection to take place at the designated entrance point into the site with queuing based outside the grounds adhering to social distancing guidelines.
Non- contact, infrared forehead thermometer checks for the children booked into camp
Only children booked into the camp will be granted access into the grounds.
Under normal camp guidelines every child brings their own lunch, snacks and re-fillable water bottle
Children stay in daily assigned bubbles to reduce the possibility of cross contamination between groups. These bubbles will be recorded.
Scheduled toilet and handwashing breaks for every bubble group regularly throughout the day.
Toilets to be wiped down after each bubbles' use.
Hand sanitiser stations throughout the site.
Staggered lunch times to reduce numbers congregating in shared spaces.
A carousel style activity programme to keep groups at a safe distance.
Activities will all be individual based ie no team games, with each child issued with personal equipment for every activity so no sharing is required.
Cleaning of all equipment with alcohol wipes between uses.
A planning portal detailing all the safety steps for every activity will be made available for our staff to ensure a unified approach and continuity of best practice across sites.
COVID-19 banner to remind parents and children of the measures.
Our staff will adhere to the latest guidelines for health and safety.
The full COVID 19 Risk Assessment can be viewed HERE.
Sports Maps:
These plans detail what your child will be doing during camp and are set out by day and group type. They will be available on our website, Facebook page and on the registration desk at the beginning of each week or camp period to see which sports are on offer. To comply with COVID Health and Safety regulations we will create a core of 25 different activities and rotate them throughout the week so each day your child will do 5 different activities and these will not be repeated another day if attending for a whole week.
Sports Maps for Summer 2020 are available HERE.
Camp Groups:
Children will be put into daily groups of up to 15 children.
They will be grouped by school year into the following groups. All ages groups will complete the same carousel of 5 activities per day (and these will change daily) but the level of difficulty is tailored specifically to cater for the relevant ability levels:
Cubs – Nursery & Reception
Wildcats – Year 1 & 2
Panthers – Year 3, 4, 5 ,6 & 7
View the Summer Camp 2020 Sports Maps HERE
Age Guidelines:
The minimum age for attending a camp is 4 years old. Due to changes in our Ofsted registration 3 year olds can not be accepted.
We can accept Year 7 children who are 11 or 12 years. Just select Year 7 from the list their date of birth as normal.
Payment with Childcare Vouchers/Tax Free Childcare:
Please click here for a link to the booking procedure.
EMERGENCY CAMP CONTACT NUMBERS