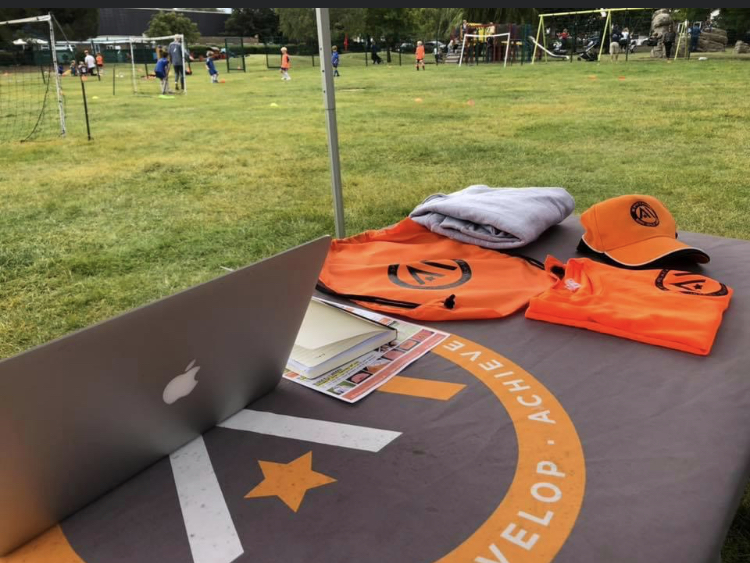 SOCCER SATURDAY
*** COVID UPDATE 22nd February 2021 – Soccer Saturday is currently suspended but the proposed return date is Saturday 24th April for Block 5 and 6 (after the Easter Holidays).
Any customers who booked for any of the cancelled sessions from January and February have been credited and will be able to use the credit on their Active account for future bookings. ***
BOOKINGS FOR BLOCK 5 & 6 WILL BE AVAILABLE IN APRIL.
————————————————————————————————————-
ONLINE Registration Procedure:
Bookings can be made for individual sessions or as whole blocks. For prices and dates see below.
All bookings must now be in advance, online, via card payment. BOOK HERE
Kit:
Soccer Saturday takes place on grass. Please wear sports clothing with layers appropriate for the weather (including a waterproof if rain is forecast) and bring a water bottle and snack to have in between the skills and match sessions.
**************************************************************************************
Soccer Saturday is a fun and inclusive session for children aged 3-11 to come and play football in small structured groups where they can learn new skills and make new friends.
Whether your child is at the very early stages of their football development, keen to expand on their current skills set and knowledge or just wants to play football with their friends, Soccer Saturday is the place for them.
Soccer Saturday is open to boys and girls in Nursery to Year 6 and takes place in the fenced off sports courts area called the MUGA at Durnsford Recreation Ground behind Wimbledon Park Primary School.
Our AM Sports Academy team of coaches will provide children the opportunity to learn, develop and enjoy playing football through fun football games to develop basic skills and confidence.
Children will be able to explore different ways of:
Moving and passing the ball with both feet
Changing direction and problem solving their way through various football games and challenges, which all aid the key fundamental movements needed in all sports.
Participating in mini 2v2/3v3 football matches in order to gain further understanding, maximise participation and have lots of fun.
Groups and timings:
The children are split up into 2 sessions by age group:
8.45am – 8.55am Nursery, Reception and Y1 Registration
9.00am – 10.00am Nursery, Reception and Y1 session
10.05am – 10.10am Y 2, 3, 4 , 5 & 6 Registration
10.15am – 11.45am – Year 2 & 3 and Year 4, 5 & 6 sessions
Dates from September 2020 – July 2021:
Block 1 – Autumn Term 1 – 7 WEEK COURSE:
12th, 19th, 26th September
3rd, 10th, 17th, 24th October
Prices Block 1:
Nursery, Reception & Year 1 – £49.00 (whole block)
Y2 – 6 – £63.00 (whole block)
Nursery, Reception & Year 1 – £7.00 (single session)
Y2 – 6 – £9.00 (single session)
Block 2 – Autumn Term 2 – 7 WEEK COURSE
7th, 14th, 21st, 28th November
5th, 12th, 19th December
Prices Block 2:
Nursery, Reception & Year 1 – £49.00 (whole block)
Y2 – 6 – £63.00 (whole block)
Nursery, Reception & Year 1 – £7.00 (single session)
Y2 – 6 – £9.00 (single session)
Block 3 – Spring Term 1 – 6 WEEK COURSE
9th, 16th, 23rd, 30th January
6th, 13th February
Prices Block 3:
Nursery, Reception & Year 1 – £42.00 (whole block)
Y2 – 6 – £54.00 (whole block)
Nursery, Reception & Year 1 – £7.00 (single session)
Y2 – 6 – £9.00 (single session)
Block 4 – Spring Term 2 – 5 WEEK COURSE
27th February
6th, 13th, 20th, 27th March
Prices Block 4:
Nursery, Reception & Year 1 – £35.00 (whole block)
Y2 – 6 – £45.00 (whole block)
Nursery, Reception & Year 1 – £7.00 (single session)
Y2 – 6 – £9.00 (single session)
Block 5 – Summer Term 1 – 6 WEEK COURSE
24th April
1st, 8th, 15th, 22nd, 29th May
Prices Block 5:
Nursery, Reception & Year 1 – £42.00 (whole block)
Y2 – 6 – £54.00 (whole block)
Nursery, Reception & Year 1 – £7.00 (single session)
Y2 – 6 – £9.00 (single session)
Block 6 – Summer Term 2 – 7 WEEK COURSE
12th, 19th, 26th June
3rd, 10th, 17th, 24th July
Prices Block 6:
Nursery, Reception & Year 1 – £49.00 (whole block)
Y2 – 6 – £63.00 (whole block)
Nursery, Reception & Year 1 – £7.00 (single session)
Y2 – 6 – £9.00 (single session)